Daves Outboard Motors has been serving the Hayward Area for over 50 years. Offering a wide range of marine products and accessories including; Hewitt Roll-a-Docks and Boat Lifts, Evinrude E-Tec Outboards, Minnkota Trolling Motors, Humminbird Electronics, Water Skis, Kneeboards, Tubes, Water Toys, and much more...
Stop in and see Dave at 15380 W. County Road B in Hayward, WI. or call 715-634-4616.
Hewitt Roll- a- Docks and Boat Lifts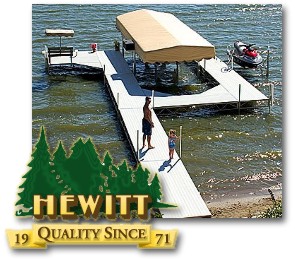 Hewitt Roll-a-Docks and Sectional Docks are simply the fastest, easiest way to get full enjoyment out of your waterfront property. Hewitt offers Aluminum frame docks with Aluminum , Cedar or Vinyl decking. See the complete line of Hewitt Docks at Dave's Outboard Motors. We have a Dock to Fit your needs.
Hewitt aluminum Boat Lifts, Pontoon Lifts and Canopies can add years to the life of your Boat. Hewitt Lifts will keep your boat safe and clean. Aluminum Lifts available to handle from 700lb PWs to 12,000lb Cruisers. Hewitt Lifts are designed to Maximize your Boating Enjoyment. Check out the quality of all the Hewiit Lifts on display at Daves Outboard Motors